e-commerce
Jirisan Hue-Maker
"Connect" you with Mt. Jiri
Jirisan Hue-Maker finds and supports local creators and farmers living at the foot of Jirisan Mountain. Ultimately, we aim to become a "Jirisan Storytelling Platform" that connects and shares their stories.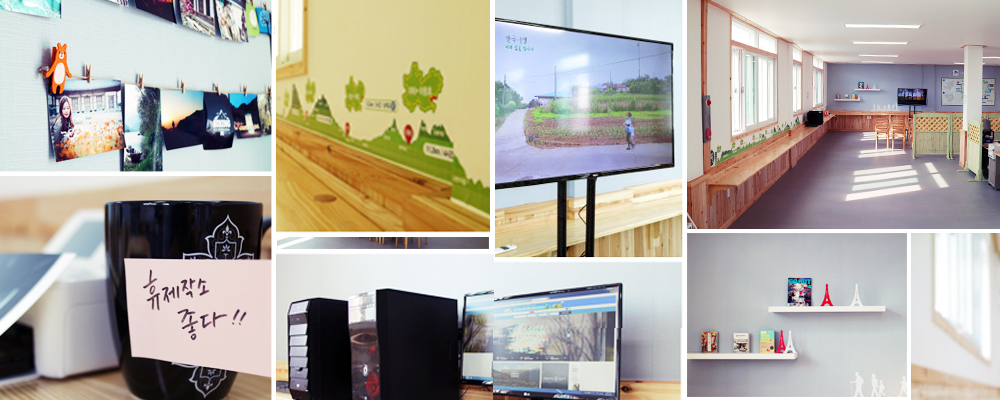 Main features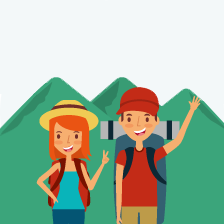 Jirisan Hue-Malker, an online platform, opened in 2014 when the Jirisan Dullegil, called the Santiago Pilgrimage Road in Korea, was created to connect nature, villages, history, and culture and connect travelers and residents.
The Jirisan Hue Production Center opened a shelter for travelers in Inwol-myeon, Namwon, the starting point of the 3rd course of Jirisan Dullegil, and operates Jirisan Mountain Travel, accommodation, and online market services for agricultural products.
Jirisan Hue-MakerA tourist shelter located in Inwol-myeon, Namwon (3rd course of Jirisan Dullegil) welcomes you.
Jirisan Hue-marketWe'll give you healthy food produced by farmers at the foot of the pristine Jirisan Mountain.
Jirisan Hue-stayWe are connecting Jirisan Mountain to you who want to have healing time for a while away from the city's intense daily life.
Jirisan Hue-tourWe are connecting Jirisan Mountain to you who have visited tradition, culture, history, and tourist attractions.
Main reference

- Jirisan Dullebogo (Accommodation content construction, homepage operation business)
- Jirisan Mt. Tourism Development Association (the conclusion of an agreement, a project to establish a website for the year of visiting Jirisan Mt, Online entry support project for agricultural products)
- Wild Ginseng Anti-aging Expo Hamyang, Korea (Establishment and operation of a shared platform for tourism products in Jirisan Mountain)
- Dongui Bogam Village in Sancheong (Online promotion and reservation of Hanok Stay)
- NAVER/ezwell/KBNC (Accommodation/Market Entry and Business Partnership)
Jirisan Hue-Maker Affiliate Proposal

Jirisan Hue-maker(on/off line integrated platform) can create new business together with farmers and local creators in the Jirisan area.

Jirisan Hue-Maker (https://www.huemaker.com)
- location : Inwol-ro 73 2F(Inwol-ri, Jirisan Terminal), Inwol-myeon, Namwon-si, Jeonbuk, South Korea [55751]
- Business Hour : 09:00 ~ 18:00 (Closed on Sundays and Statutory Holidays)

Main Business
- Tourist Center : Guide to Jirisan Mountain Travel and Convenience Facilities, Traveler and Resident Community Space
- Jirisan Hue-Market : Online promotion and sale of agricultural products in the Jirisan area
- Jirisan Hue-Stay : Operation of travel and accommodation reservation service in Jirisan area
- Jirisan Hue-Tour : Operation of reservation service for travel programs in Jirisan area
Business inquiry
hellofarms
A dedicated shopping mall where you can find a trusted 6th industrial certified product.
The term "sixth industrial certified product" refers to a product certified by the Ministry of Agriculture, Food and Rural Affairs after a difficult screening considering growth potential, differentiation, and entrepreneurial mindset.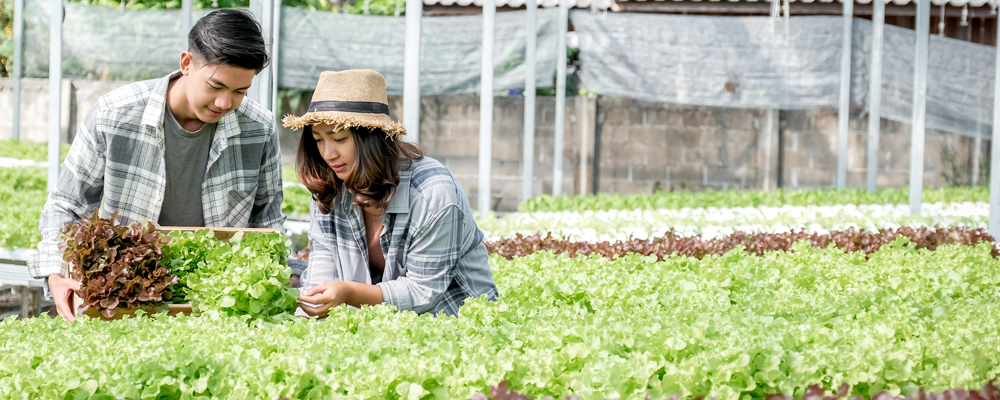 Main features
We only sell 6th industrial certified products and various eco-friendly certified products certified by the Ministry of Agriculture, Food and Rural Affairs.

We promote our agricultural products through Hello Farms, which are experiencing difficulties in sales, and further create a win-win environment that grows together.

Instead of some farmers who are not familiar with SNS, we use various promotional/marketing platforms such as Facebook, Instagram, and blogs to promote the 6th industry certified products.

You can easily and comfortably meet rare craftsmen and masters' products.

We are supporting the entry of department stores and open markets for excellent local products.
Main reference
Hellofarms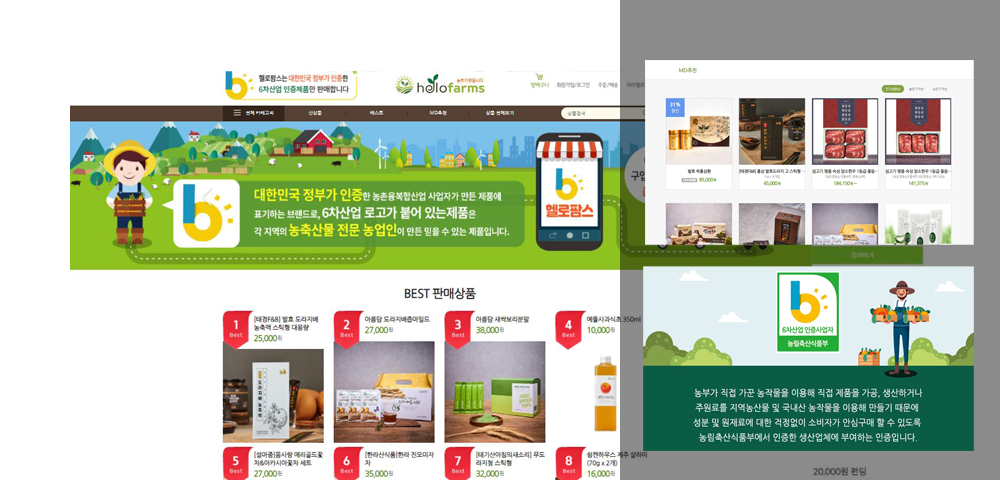 Hellorarms & Hue-Maker NAVER Smart Store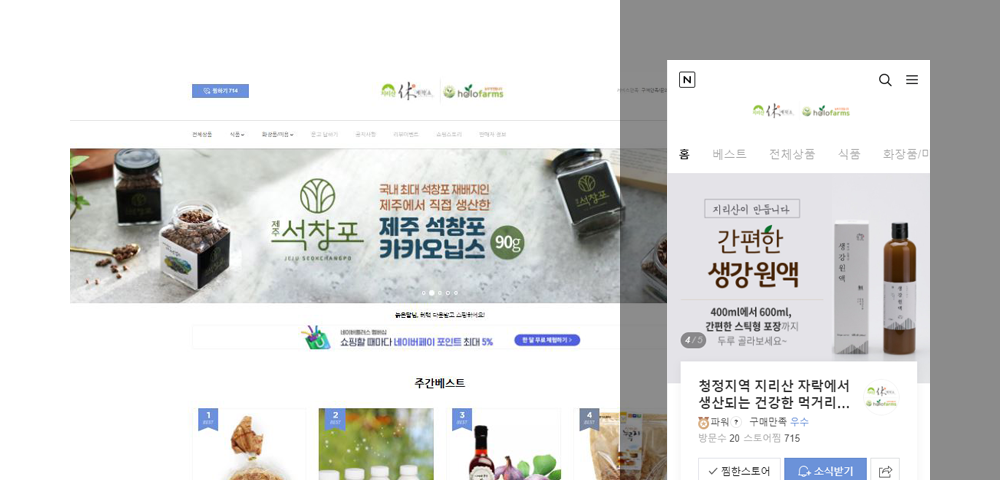 Support for SNS(FB, Instagram) marketing promotion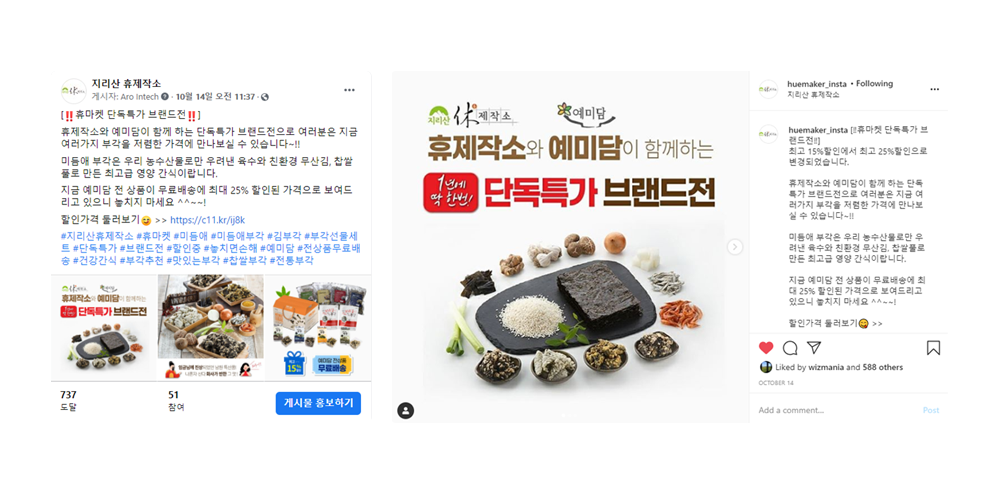 Enter online market & Support for cloud funding offerings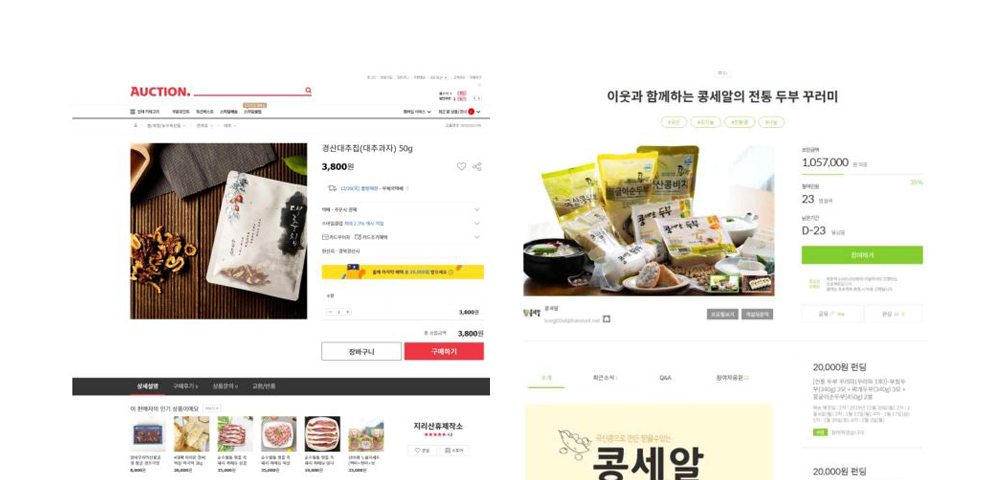 - Hellofarms
- Hellorarms & Hue-Maker NAVER Smart Store
- Support for SNS(FB, Instagram) marketing promotion
- Enter online market (Auction, G market, etc.)
- Support for cloud funding offerings
Field of utilization
- Utilize as a platform for local governments and public institutions to promote product sales
- Role as a window to enable small local products to be sold online
- A win-win business in which consumers get quality products and farmers create economic revitalization.
- Easy and comfortable purchase of famous specialties from all parts of the country

Business inquiry